Custom Search

Chief Shabbona (Zhabneh)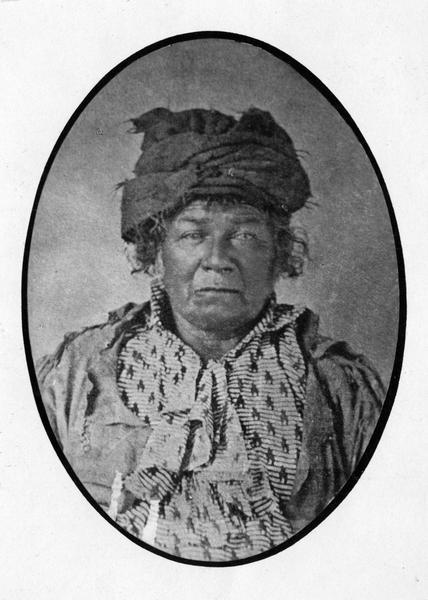 Chief Shaubena, 1775-1859
A formal portrait of the Chief Shaubena (Shabonay/Shabbona) made at Hennepin, Illinois shortly before his death in 1859. Shaubena was a grandnephew of Pontiac and he lived in Ohio, Iowa, Illinois, and Kansas. He helped the Americans during the Black Hawk War in exchange for a small government pension, and was known to his Native American enemies as the "White Man's Friend."
Shabbona (Shabona), an Ottawa Indian who would later in his life become a Potawatomi Chief, was born near the Maumee River, in Ohio, about 1775, and served under Tecumseh from 1807 to the battle of the Thames in 1813. In 1810 he accompanied Tecumseh and Capt. Billy Caldwell to the homes of the Pottawatomies and other tribes within the present limits of Illinois and Wisconsin, to secure their co-operation in driving the white settlers out of the country. At the battle of the Thames, he was by the side of Tecumseh when he fell, and both he and Caldwell, losing faith in their British allies, soon after submitted to the United States through General Cass at Detroit. Shabona was opposed to Black Hawk in 1832, and did much to thwart the plans of the latter and aid the whites. Having married a daughter of a Pottawatomie chief, who had a village on the Illinois River east of the present city of Ottawa, he lived there for some time, but finally removed 25 miles north to Shabona's Grove in De Kalb County. Here he remained till 1837, when he removed to Western Missouri. Black Hawk's followers having a reservation near by, hostilities began between them, in which a son and nephew of Shabona were killed. He finally returned to his old home in Illinois, but found it occupied by whites, who drove him from the grove that bore his name. Some friends then bought for him twenty acres of land on Mazon Creek, near Morris, where he died, July 27, 1859. He is described as a noble specimen of his race. A life of him has been published by N. Matson (Chicago, 1878).
from the "Historical Encyclopedia of Illinois", p. 476

The Sauks and the Black Hawk War:
With Biographical Sketches, etc
By Perry A. Armstrong
UNITED STATES INDIAN SERVICE,
POTTAWATTAMIE AGENCY, December 13th, 1880.
HON. P.A. ARMSTRONG, Morris, Illinois
.....The treasonable conduct of Shaubenee and Waubansee, from the Indians' standpoint, in taking up arms against their race and relatives, the Sauks, killed their influence and ruined their standing among their nation and people. They were really looked upon by these Indians with that kind of loathing that we do upon the name and deeds of Benedict Arnold. Hence there was little show for the sons of either of them to gain or maintain any standing in their tribe.
Matwa, or, as Mr. James calls it, Matwas, the elder living son of Shaubenee, is now (1886) 80 years old. In form and build he bears a very striking resemblance to his father, but is much larger and coarser featured and of a darker color. His features resemble those of his mother and are void of expression. In a word he is a mountain of stolid flesh; five feet eleven inches in height and over 300 pounds in weight, is quite deaf and extremely reticent. He is a widower with three sons, Mijohn or Mitchell, Shaubenee and Anatawbe, and one daughter, Watwaweiska. His home is in the timber on the west bank of the Little Soldier, in a hewed log cabin. Here he lives during the warm weather, but invariably lives in a wigwam in winter. He cultivates a small farm at the edge of the woods, but is inordinately lazy and shiftless.
When, in June, 1880, we visited him in company with Mrs. Judith Bourdon as interpreter, in the vain hope of obtaining some informatino relative to his father, we found to our regret that he knew but little of his father's history, and was fully determined to keep what little he did know to himself. Observing that we were making memoranda he suddenly refused to answer another question because, as he said: "You are using the white man's lying paper and may be cheating me out of my land or ponies." For several minutes he remained as close as a clam-shell. We finally instructed our interpreter to ask him if he remembered of living near Starved Rock, in Illinois, nearly fifty years before, and of going our one night to spear fish in the river accompanied by a little white boy who threw his spear into a Large cat-fish and was pulled out of the canoe into the river by it, and of his rescuing the boy, who was still holding on to his spear. His face showed a little animation as he answered yes. On being informed that we were that self-same boy he extended his hand with "Boozhu nicon;" but he was unable to give us any reliable data. Cebe-qua, Shaubenee's oldest daughter, wife of the drunken Yaub-bee, was very old and feeble and died in 1881. Her house was a large, well-built, hewed-log cabin, partially furnished and kept matchlessly clean. We saw neither bed or table there. She had but one son, whom she called John. He was the terror of the little boys when living in Illinois, from 1857 to 1864, with his little bow and arrow, winning their pennies. Her husband remembered us at sight, and said he had been drunk in Morris a hundred times. He inquired after many of the old settlers of Grundy county, especially L. W. Claypool, Jonah C. Newport, Henry Benjamin, C. H. Gould, Samuel Holderman, Judge Hopkins, etc. Yaub-bee cultivates about eighteen acres. Mo-qus-kua, second daughter of Shaubenee, is a widow, fat, dark and fifty, with one daughter, Con-no-ke, now twenty-two years old. Mother and daughter live with Matwa. Matwaweiska, or Martha, as she was called when living in Grundy county, Illinois, is a widow for the second or third time. She is now about forty-two years old, and decidedly fine-looking and dressy. She dresses like the white women, except more ornate in the use of beads and silver jewelry. She is a good cook and very cleanly in her person. Living, however, in a wig-wam summer and winter, which is the very pink of neatness, but she is very poor and would suffer for food were it not for the kindness of Obnessee, her half-brother, the Kickapoo, and son of Shaubenee by Nebebaqua, his little Kickapoo wife.
Obnessee is quite a wheat raiser, and although the son of Shaubenee, he is a Kickapoo, since the gens always runs in the female line. He lives in the Kickapoo reservation in Jefferson county, Kansas, some twelve miles from the Pottawattamie reservation. Obnessee furnishes her with all the flour she needs to support herself and three children. She has two sons, Shaubenee and Nan-wik-wa, or Four Faces, and one daughter, Wish-us-qus, or Turn up Nose. Nan-wik-wa, was about eight years old when we were there in 1880. We were scarcely seated ere he challenged us to play a game of euchre at five cents a corner. Obnessee, the Kickapoo son of Shaubenee, is a finely-built, tall, straight Indian, of good intelligence, and the father of several children, all of whom speak, read and write the English language. Such is the family of the noble old chief, Shaubenee, as we found them in 1879 and again in 1880.